Pulse Room (Biennale Di Venezia, Italy 2007)_Photos by Antimodular Research


Rafael Lozano-Hemmer's media-based work to date has taken a myriad of configurations: from large-scale, participatory installations such as Pulse Room (2006) that he exhibited at the 2007 Venice Biennial, to more intimate pieces currently shown at the 2008 Media_City Seoul Biennial. Regardless of design, format, and size, his work is characterized by a technical mastery that is coupled with a visually poetic sensibility that topically engages the world in which we live in. Often the criticism against media art is that it is too formalistic and technological to the degree that these elements tend to override content; but this is never the case with Lozano-Hemmer's work underscored, for example, in the previously mentioned pieces of which the latter two are part of a series of works titled shadow box.

The shadow box is a repository which often contained dioramas, albeit of a military nature. While there is a peripheral relationship to the original context from which Lozano-Hemmer's works are titled, it is nonetheless imperative to keep this reference in mind when viewing/interacting with Shadow Box # 4: Blow- up (2007) and Shadow Box # 6: Reporters with Borders (2007). Both works are interactive two-dimensional, wall mounted sculptures with built in surveillance cameras. The camera picks up the viewer's movements as he or she views the work, which consequently triggers activity on the LED screens manipulated by software built into the sculpture. What appears on each of the work's screens are, however, completely different.
Pulse Room (Puebla, México 2006)_Photos by Antimodular Research
Shadow Box # 4: Blow Up fragments the live feed of the viewer into countless geometric shapes. But the work goes beyond kaleidoscopic razzle-dazzle, for the subtitle is allusion to both the visual effect created via fragmentation as it is to a similarly titled film by Michelangelo Antonioni. Like Antonioni's cinematic masterpiece in which the protagonist suffers from identity crisis, Shadow Box # 4 uses the trope of the doppelganger and body double which is also a component to Shadow Box # 6: Reporters with Borders.
Here, there is a similar modus operandi of fragmentation; but the split manifests in dichotomies of male/female, U.S./Mexico and light skin/dark skin. Whereas the surveillance camera in the first work visually dissipates the viewer's corporeal self into a myriad of abstract forms creating a push-pull effect between abstraction/figuration, figure/ground, and synthetic/organic, the camera in the latter inscribes the viewer into the xenophobic politics of immigration. Shadow Box # 6: Reporters with Borders displays hundreds of journalists who are simultaneously transmitting their news programs in English and Spanish according to what side of the U.S./Mexico "border" they are televising. Like the contested regions from which they transmit, this tower of babble is geo-politically delineated via a black, bisected line on the screen that can be read as the "border." The interruption of articulating journalists is created by the viewer who, as doppelganger and body double, becomes a phantasmagoric (illegal) border crosser that intervenes across the screen.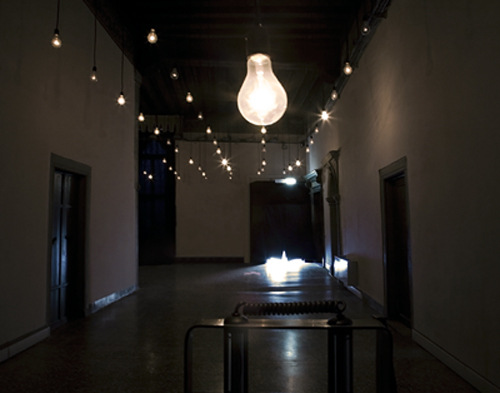 Pulse Room (Biennale Di Venezia, Italy 2007)_Photos by Antimodular Research
The literality of the work's subtitle is also offset by its antithesis to the alternative journalism organization called Reporters without Borders. This famous source of news information that, by nature, is a threat to the status quo via its brutally honest reportage is peripherally linked to the conceptual framework of Shadow Box # 6: Reporters with Borders. It is this sort of subtext to Lozano-Hemmer's art that has situated him qualitatively apart from those who work in comparable media; for in these two works Lozano-Hemmer explores communication as well as race and gender within a transnational context of immigration. Both fundamentally work as brackets of each other: the former focusing on the ontology of the self and its political undercurrent, and the latter takes up the epistemology of journalism and its inherent bias, and together the works are a critical yet poetic exploration of the technological in an exceedingly post-human world.
http://www.lozano-hemmer.com/eprlh.html


Written by_Raul Zamudio New York-based Art Critic
*Raul Zamudio is New York-based curator and critic and NY correspondent for Eyeball. His most recent projects have been co-curator of 2008 Media_City Seoul Biennial and artistic director of 2008 Yeosu International Contemporary Art Festival.