The 2008 Hermes Missulsang (Art Awards) Exhibition is being held at the Atelier Hermes. The judging committee to the Hermes Art Awards, which began in 2000, selects 3 finalists among whom the winner will be announced at the end of the exhibition. Candidates are nominated by 5 recommenders, each recommender nominating 2 candidates. Past winners include Young-Hae Jang (2000), Chan-Kyong Park (2004) and Sung-Hwan Kim (2007). Hermes Korea, the first international corporation to inaugurate and award an arts award to Korean artists, is well-known for its active contribution to cultural arts and its Mecenat activities.

The 3 finalists for 2008 – Shinil Kim, Sanghee Song, Yangah Ham – all introduced video pieces. Shinil Kim traces fast-moving images inside the wall of a cylinder-shaped object. These images were extracted from television commercials, divided by mirrors with a turning force and traced not as sequential images but as portions of divided images. Through this video Shinil Kim describes the delicate divided relationship between the shown images and subject, the consumer of images.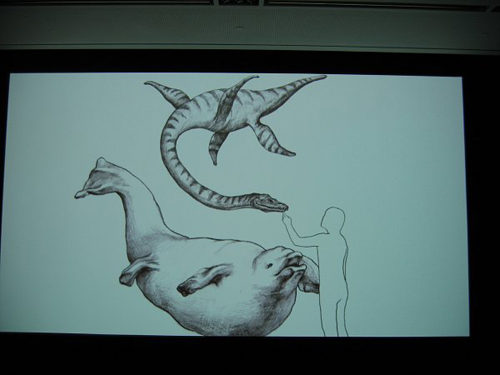 Sanghee Song's animation_2008
Sanghee Song introduced an animation exploring environmental problems such as the Taean oil spill. She examines the antagonism between man and nature, and science and myth, such as the Bible and the theory of evolution, through drawings and narrations. Sanghee Song's transposition of "Noah's Flood" to "The Oil Flood (World Covered with Oil)" resembles the warning God made towards men through their environment in Genesis Chapters 6-8. Had it been more polished, the animation techniques used would have been highlighted. Also, the video would have had more visual effects had it been able to break away from the illustration and add animation movements.

Yangah Ham_"Invisible Clothes" _14min_ short film_2008

Yangah Ham is an artist who has continued her work with videos. "Invisible Clothes" is an artwork that realized her dream to become an artist. The video shows the story of a scientist and a fashion designer in an SF style movie. Scenes where the scientist and the fashion designer share their opinions on images from their own perspective are shown within the film. The film also reenacts the never-ending desire of men and its society. Repeated close-ups of unclear images, adapted from filming procedures, confuse our sight. Winners of the Missulsang and Exhibition, where video works were emphasized, will be announced on November 9.

Written by_ IAN, Art Critic