[##_1C|ek12.jpg|width="600" height="160" alt="사용자 삽입 이미지"|IASmedia Screening 2007 | 2007. 11. 09. Fri ~ 11. 11. Sun_##]
From November 9 to 11, a screening was held at Seoul Art Cinema in Insa-dong helping to catch the current trends of video arts home and abroad. It was organized by IASmedia which is a special program at Insa Art Space of Art Council of Korea. It was nice to see various video art works at a theater out of galleries.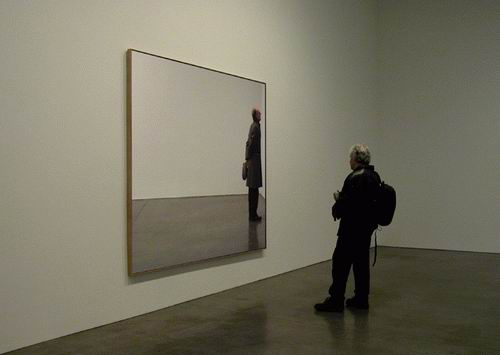 Kim, Shin-Il_In Between_2005


For this screening, newly selected works for IASmedia distribution this year were presented. They include video art works of Kim, Shin-Il, Park, Joon-Beom, Ahn, Jeong-Joo, and Jeong, Eun-Young. Also as the exchange screening program with Videonale 11 at Kunst Museum, some foreign artists' works were shown as well. Each program ran for three days from for three to four screenings (with running time of about 40 minutes each) according to the screening schedule. On the last day of 11th, there was a small reception where audiences and concerned party could share the lingering thoughts about the video art works they viewed.

Through his work, <In Between (3:25, 2004)> Kim, Shin-Il asks to reconsider the concept of 'art' by displaying only the 'act of viewing,' 'ability for appreciation,' and 'gazing eyes' without showing actual piece of art work the viewers were looking at. In <Building Apartment (3:00, 2005)>, Park, Joon-Beom uses collage of high-rise apartment buildings as a symbol of economic power, showing the process of building which includes considerable amount of capital and labors, and he fast-edits it into a compact size. In a shabby neighborhood in Ethiopia, a bunch of poor children are gathered around one boy with an old portable video soccer game player. Boasting the playing skills in their own ways, there are seriousness and enjoyment on their faces just like the children in a big city. Ahn, Jeong-Joo makes interesting tune based on naïve plays of the children in <Their War 1 (Ethiopia) (, 2005)>. In his another work called <Fishing (, 2007)>, Ahn provides a unique fun with a raw sound made by mouth which sounds like beat box performance on top of long shot of a person fishing.



Antenna_Advent of Jappy_7:00, 2006
Videonale 11 screened <Adventure of Jappy (, 2006)> is a work of Japanese artist group called Antenna. It displays a ritual occurring in a virtual space in illusory and mysterious ways. Oliver Pietsch shows the collage of scenes of people jumping or falling which are culled from famous movies. <May be not (4:25, 2005)> starts with the last scene of Miike Takashi's <Graveyard of Loyalty (2002)> and it inquires about man's death, freedom, limit, and a dream. <When I wish upon a star (, 2004)> overlaps a girl's voice wishing her dream with the image of a slow shooting star. It's a witty and cute looking work reminding the viewers of their childhood. The number of audience was less than it should had been as the video art screening still seems to be unfamiliar to the general public. But growing popularity is hoped for the future.

written by_ eyeball editor Shon Seihee