Choi Jiyoung_Bathtub_Oil Painting on canvas _130×162cm_2007

Project for new artist Propose 7 managed in Goyang Art Studio of National Museun of Contemporary Art and Kumho Museum in joint enters upon the fourth-year. In proper form, one artist is selected among the artists-in-residence after art critics are selected in this project. Selected seven critics who engage in various cultural fields as film, music, philosophy or design present their opinions about the artists in this year.

Kim Kunil_A Desire_Mixed material on Korean Paper_100×160cm_2009
Choi Jiyoung_Bathtub_Oil Painting on canvas _130×162cm_2007

Kim Min-jung who has displayed multi-channel video combines architectural factor with display room. The room enters an image, and the image produces distorted surface of the wall. In the room, her work physically, psychologically makes us feel dizzy and have the illusions that the room is transferred and expanded. This is reminded of Vertigo by Alfred Hitchcock or a pointed roof, distorted objet symbolizing psychological express of fear which used by German Expressionists in 1920's. It is outstand that Kim's interpretation on space leads us to the illusion as entering the world of virtual-reality and experiencing distortion like an optical illusion.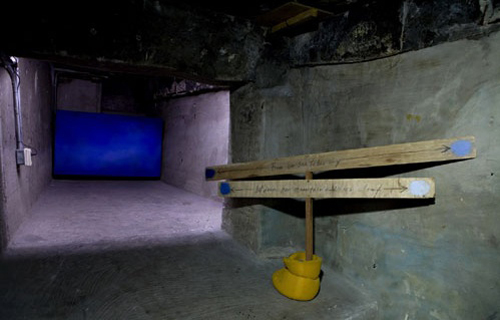 Kim Yunsu_From her sea to his sky: between her mountain and his cloud_Mixed material_a variable intallation_2007
Kim Byungho_Sounds from the sky_Brass, Steel, Piejo, Artduino board_300×500×80cm_2009

Kim Jae-yong, Music columnist has selected sound artist Kim Byoung-ho. The artist who created feeble sound used by frequency and sculptures according to the sound would like to display the futile desire of human and the end of it. Also, Propose 7 introduces new artists Choi Ji-young, Kim Kun-il, and many others and exhibits their works.



By IAN Art Critic