The same object often triggers different interpretations. The moon andthe sun are examples of those objects that generate conflicting viewsbetween the East and the West. The moon has been an auspicious symbolto Koreans while it has been an ominous representation to the West.Looking at the moon, Koreans pray for a better future while the Westassociates it with darkness, lunatics and uncertainness. Thisdifferent view on the moon has been deeply rooted in the collectivesentiments of the two cultures. Therefore the moon has traditionallybeen associated with the East, and the sun with the West. In thecomplex process of eclipse, the sun and the moon reconfiguresthemselves as one passes by the other, often casting a shadow ofreflection. In this way, the eclipse suggests the encounter between contemporaryKorean and Western art – instead of establishing a hierarchy, the newrelationship between the two has become one of symbiosis. Theexhibition MOON GENERATION is subdivided into categories reflectingeach artist's characteristic - Moon Hunters, Moon Reflection, and MoonConfiguration - under the overarching theme of eclipse. In the lunar calendar, the "hunter full moon" phase recalls a timewhen hunters, having been dealt the good fortune of an extendedtwilight period, could remain on the hunt for longer. One can imagine the chase during these shadowy yet mysteriously luminous hours and howin the glow of dusk the darkness would creep up upon the hunter as heclosed in on his prey.

The artists as MOON
HUNTERS capture the essenceof this chase, however ineffable, indeed fantastical, the object oftheir hunt may be.Their images drift into fantasy and in defiance ofour rational, ordered and modern circumst
ances. We all, in fact,everyday, have a choice to live within reality, or the ordinary, orretreat into the fantastical, or the extraordinary. With generosity,the artist as Moon Hunter makes that decision for us, and by doing soinvites us into an oneiric reality, a dream inspired, and ahistoricalother realm of fantastic existence. For example, Lee YongBeck huntsdown the bait of fake reality. His immaculate depiction of fake fish,eyeball, and flowers catches simulacrum from the mimesis of reality.Themagical realist Jeon JoonHo's mummy sculpture is an oxymoron ofspace, time, sublime, graveness, and witticisms. His jumping intobanal reality is not toward the end but opening the door to surreal,magical world. Sim SeungWook's black line sculpture is a journey tofind the colors in black and shapes in abstraction. Black, the darkestcolor in the world, maximizes the decorative silhouette in his blackgravity series.Unlike the fantasy portrayed in Moon Hunters wherein images only seemlike illusions, the MOON
REFLECTION series is meant to be preciselythat - an illusion.In the
moon lies the very nature of illusion.Which other celestial object waltzes through the shadow of Earth andthe light of the sun while casting shadows and changing shapes quitelike the moon
does? The
moon
creates the illusion of waxing andwaning when in fact its form remains unchanged.Although logically wecomprehend what is occurring, we remain nonetheless entranced by the
moon'
s inconstancy.

Debbie Han, Secretive Three Graces 170x150 (Edition 4 of 8) Lightjet print, aluminium, acrylic 2008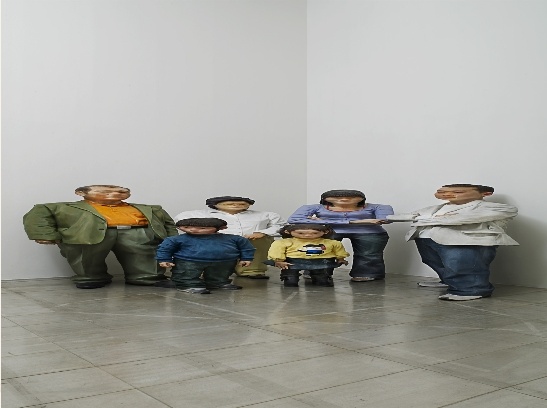 Yi HwanKwon, A Family son: 113x76x76 Daughter: 102x80x70 Father:160x136x115 Mother: 127x107x115 Grandpa: 172x135x110 Grandma:105x151x105 (set 6 pieces) Fortified Plastic 2008
Kwon Kisoo, Time(overall) 130x980 Acrylic on canvas in 4 parts 2009
Jeon Joonho, Untitled 100x230x165cm, Oil on resic, wood, glass, monitor, mummified body 2007-2008

In this series, some Korean art
ists are theillusion moon incarnate, producing optical illusions that arecolorful, corporeal, and full of absence. The abundant mixtures andmanipulations of space and time prompt the viewer to wonder, "Isseeing believing."
In these works where, for instance, layered imagesare without layered meanings, the art speaks for itself.It is whatit is. For example, Bahk SeonGhi
's sculpture distorts the gravity ofspace with flatten still-life chairs. The viewer's abortive attempt tosee the link between illusion and reality only leads to Park's wittysense of space. Cho Hoon, who collects raunchy adult fliers, presentsscantly clad call-girls through his classic white low relief sculptureportraying the female body as a vulnerable and easily misled illusion
in the male dominated society.Postmodernism asserts that centers and boundaries are always inconstant motion. But once in a while the center and boundarysimultaneously converge upon a central point.We may witness thismiracle occurring in nature the
moment the moon
configures with thesun to create a total eclipse.
MOON CONFIGURATION transposes thiscelestial occurrence between the moon and the sun onto a more earthlyplane where the east represents the moon
and the west the sun.Inthese images, e
ast/west configurations occur through the blending andjuxtaposition of various regional symbols and icons. The tattoo artistKim Joon explores displaced human beings using capitalist icons of thewest to unveil the conflict between individual and collective desires.

Park JungHyuk's flesh landscape, a culmination of magazine ads,movies, and porn sites, transforms the natures of original images intoa hybrid pun. Debbie Han's Venus speaks of disharmony between body andmind, reality and fantasy, East and West through the digital image ofthe Korean female body with the awkward Greek Venus face.And just as the moon and the sun rely on each other to create amiracle of total eclipse, so too do arts from Korea and London rely oneach other to discover new forms of artistic appreciation,combinations and potentialities. Perhaps when we reflect back upon ourpresent time as an age of cultural configurations, we will see an ageof collaborative imagination and expression. That is the spirit ofMOON GENERATION.
Daehyung Lee (President, Curating Company Hzone)