Among the various film festivals these days, the Cinematheque Friends Film Festival, which celebrates its 5th anniversary this year, is being held from January 15th to February 28th with a total of 44 films.

The Cinematheque Friends Film Festival is held every year with Korea's representative directors, critics, actors and actresses, and audiences directly participate in selecting and showing the films which they want to watch together, and then talking them over with audiences. This planning and participation process is different from other film festivals making it more meaningful and pleasant.

This year, the Cinematheque Friends Film Festival prepares various activities to establish a dedicated hall for Cinematheque in Korea and special events to make preparations for a new decade. Charles Laughton's <The Night of the Hunter> (1955), which has directly been purchased as a film library by Cinematheque, and the maestro of western films John Ford's collections will be introduced in their new prints for the first time. And the Cineclub, where young people who dream of working in movies and as film professionals can meet and talk about direction and scenarios, will make its first appearance. In addition, the Cinematheque Friends Web Daily (http://trafic.tistory.com) will open to deliver various kinds of information such as films now showing, Cinetalk, feature stories, and more during the period of the film festival.
Cineclub@gallery VOOK'S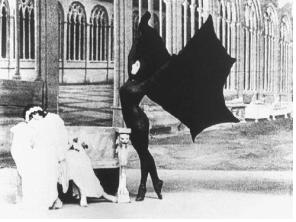 Louis Feuillade, Les Vampires

As an opener, Louis Feuillade's silent film, <Les Vampires – Episode 1 and 2> (1915-1916), was screened with a live performance of Jang, Young-gyu, one of the members of the Eoeobu Band and an active film music director of late.

In the feature of the Members' Choices where films selected by vote of Cinematheque's audiences are screened, Jean Epstein's <The Fall of the House of Usher> (1928) and Buster Keaton's <The Navigator> (1924) were chosen as silent films that audiences want to watch again. <The Fall of the House of Usher> of which main motif comes from the novel by Edgar Allan Poe embodies a scenic beauty of Europe's Avant-Garde in the late 1920s and is rated as the best film among those produced which were inspired by a novel.
| | |
| --- | --- |
| Jean Epstein, The Fall of the House of Usher | Jean Epstein, The Fall of the House of Usher |

The highlight of this festival, Friends' Choices, shows the films which have been rarely shown in the country to the present. Mike Leigh's <Naked> (1993) and John Boorman's <Deliverance> (1972) will be screened formally at this time. Wong Kar Wai's <As Tears Go By> (1987) will be shown as the director's cut Hong Kong version not the existing Taiwan version.
| | |
| --- | --- |
| Mike Leigh, Naked | Mike Leigh, Naked |
The corner Cinephil's Choice Carte Blanche selected by Jeong, Seong-il, a critic and recently debuted director, and the American critic Chris Fujiwara will open a review lecture and discussion after the showing to give a chance to take a closer at the films.
Jeong, Seong-il: Sacha Guitry _Confessions of a Cheat
Chris Fujiwara : Fritz Lang_Beyond a Reasonable Doubt

Meanwhile, you can't miss the pleasure to participate in a periodical showing of Seoul Art Cinema during the period of this festival. In the monthly feature 'Meet the Writer', Bae, Chang-ho's new film will be premiered. This film is a part of <The Movie Meets Korea> (2009), an omnibus film produced in areas such as Seoul, Chuncheon, Incheon and Busan to show the entire world the beauty of Korea. The director Bae introduces three themes of a travel, a vacation and an outgoing on the background of Jeju Island.
| | |
| --- | --- |
| Bae, Chang-ho | |
Besides, 'A Small School in the Theater', a youth film educational program, 'A Periodical Free Showing for Japanese Masterpieces', 'Indi-story Showcase Friday Short Theater,' a program to introduce new independent short films in the country, and 'Movie×Hope×Sharing Film Professionals Campaign Showing' with culture outcasts will progress meaningfully though small in scale.
The first step of the Cinematheque Friends Film Festival was the Reopening Special Film Festivals which was held after moving its base of operations to the Nakwon Shopping Arcade in 2005. At this time, there is an effort to secure a stable showing space for Cinematheque which has been aspired by the Cinematheque Friends. We hope to soon prepare a precious space for all who love movies.
Ahn Ji-young (Film Critic)